Wood & Polymer
---
Woods

Available wood species are as follows. Colors and graining of each specie may slightly vary depending on trees, therefore there might be differences between theses pictures and your actual piece of jewelry.

EBONY

MACASSAR EBONY

VERAWOOD

OLIVE WOOD

BLOODWOOD

PURPLE HEART

PINK IVORY

BOXWOOD

Polymer

Polymers used for Woodybody jewelry are white PTFE, clear PMMA, and black Delrin.

Stérilization: only PTFE can be autoclaved and used as initial jewelry, PMMA and Delrin can be soaked therefore decontaminated.
SIZES & dimensions
---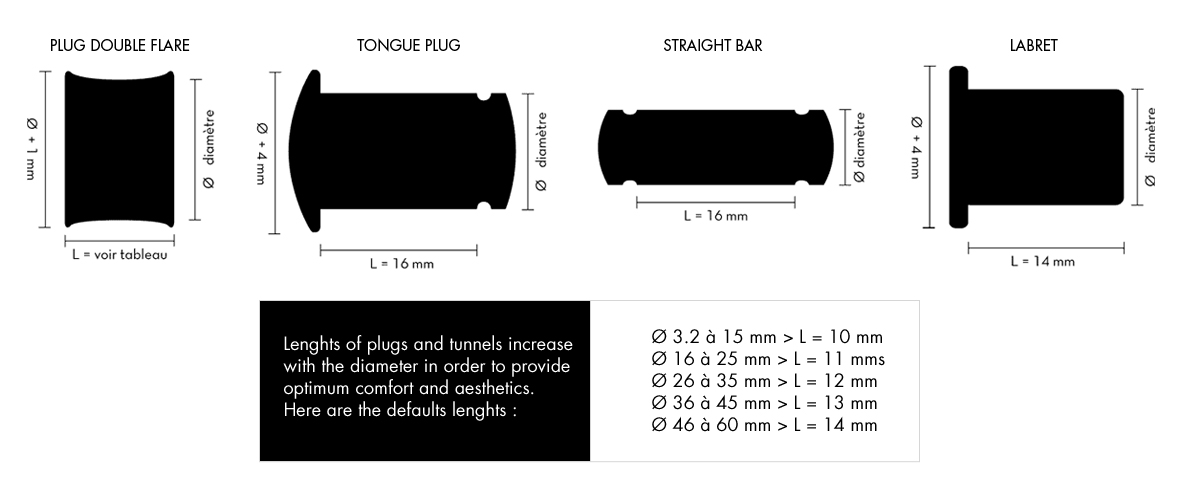 TIPS & care
---
WOOD
In order to keep your wooden jewelry beautiful and healthy, it is strongly advised to avoid contact with water. Remove jewelry before taking a shower or a bath.
Wood as body jewelry: woods tend not to be allergenic. The body can tolerate wood very well, it's comfortable and very lightweight. It is also micro-porous and that makes a significant difference regarding "smell issues" opposed to surgical steel or plastic jewelry... Allergic reactions are very rare, but not entirely excluded, every human skin is different.
If any issue occurs, please remove the jewelry and contact your doctor quickly. Woodybody can not be held responsible for any problem resulting from the use of your jewelry.

Sterilization: wood is organic matter and can not therefore be sterilised or put in the ultrasonic cleaner, even in the water or a chemical solution.
Cleaning: you can use a tissue, or a coton cloth to wipe out the dirt.
Maintenance: wood is organic, porous and needs to be nourrished frequently with natural oils (like jojoba, argan, almond). Once a month, put a drop of oil on your finger and rub the whole plug. During few minutes allow the wood to absorb some oil and wipe the exedent with a tissue or coton cloth.
Jojoba oil bottles are available in the Goodies section.
POLYMER
Maintenance: to clean your jewelry, use warm and soapy water or a wet tissue. Be careful cause synthetic fabrics can make scratches on the surface of your jewelry.
Sterilization: only PTFE can be autoclaved. PMMA and DELRIN can be decontaminated in a cold solution. Therefore only PTFE can be used as primal jewelry.
Polymer jewelry is delivered to you after being polished, please clean it before wearing your new stuff!